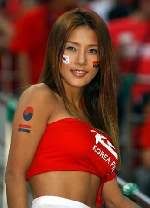 The German city of Dortmund is working quickly to install drive-in wooden "sex garages" in time for next year's soccer World Cup.
Dortmund, one of 12 cities to host World Cup matches, would like to keep prostitutes and their clients off the streets by providing them with other 'discreet' places to do (the-so-called) business.
Experts estimate as many as 40,000 prostitutes may travel to Germany to offer their 'services' to fans during the tournament.
Dortmund plans to arrange the Dutch-designed wooden huts in an area that will also offer condom machines and snack bars.