Here comes the 1st episode of My Days in the National Service Program!

Kembara Halangan - Obstacle Courses part 1
NS Fact: Like the military,there are four main companies(some have more).


Alpha
,
Bravo
,
Charlie
and
Delta
.
I'm in Kompeni
Bravo
(Bravo Company).
According to
wikipedia
, An
obstacle course
is a series of challenging physical obstacles an individual or team must navigate usually while being timed. Obstacles courses can include
running
,
climbing
,
jumping
,
crawling
and
balancing
elements with the aim of testing endurance; sometimes a course involves
mental
tests.
(no pics of me crossing the obstacles,only me taking pictures of my friends)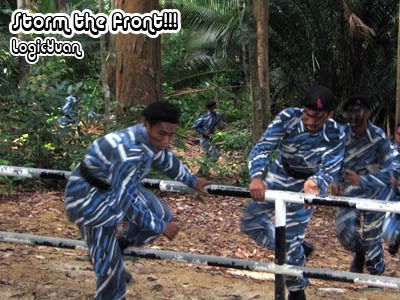 Pagar tiga kaki, the 3 foot fence(not 3 legs ok!)
-"sup sup sui" I passed it so easily
Tembok enam kaki, the 6 foot wall
- I crossed with ease again...but I was really suprised that some of the wira find it very difficult,wirawati can have partners assisting them to cross this but wira have to do it alone...
(in some camps,wirawati don't have to do this at all)
NS fact:Trainees are called Wira(for boys) and Wirawati(for girls)
So I'm a wira! haha I'm a Hero...
The Monkey Bars...
- Sad to say but I have to admit that I fell into the water the first time I tried the monkey bars,mainly because it rained before we went into the jungle so the bars are wet and I couldn't grip the bars as well as I should but the 2nd time I got passed it without a problem.
Camp fact: Usually the Kembara Halangan in other camps are on the ground,hence it is easier.In certain camps like mine,the equipments are installed in the jungle up the hills but its cooler and more adventurous.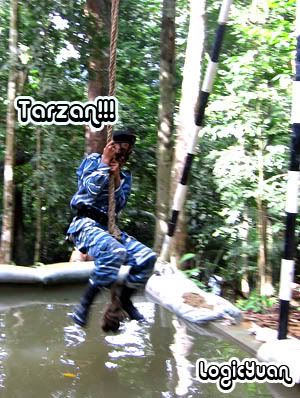 The Tarzan Swing
- This is fun...OH-E-O E-O!
Kembara Halangan To be continued....