Hello once again to my readers! I personally feel sorry for not posting any informative posts due to several reasons, but here I am again to tell you about something happened on the 4th of October 2006.
That day after school,
Yin Tung
and I went to the Green Lane McDonald's for lunch. We were hungry so I parked the car in no time and went into McD to order our food. Next, we went to find a seat and the moment I sat down I felt a sensation on my right calf and I was like WTF! what happened to my legs! I stood up and discovered this: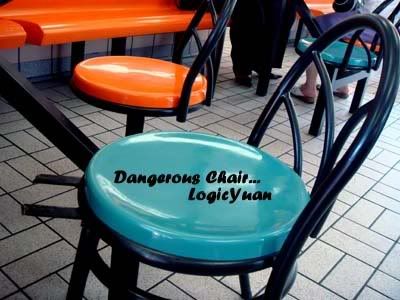 SEE!
Although it is quite a minor cut and maybe you think I'm making a fuss about this small matter but let me tell you....(erm... pls continue to read first)
It was this that did that to me!!!
Do you guys have any idea that its very dangerous to have such a bad chair in McDonald's!!! A place where children like to linger and play!!! Anyone could have got hurt!
Its actually a chair that is cemented on the floor and it was damaged leaving to metal bars there just like this: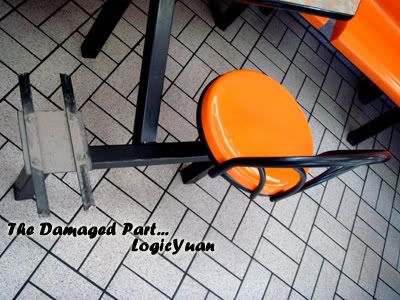 But don't know who put another normal chair on top of it without considering the safety of the consumers? So I removed it and talked to the manager on duty(Male,Chinese,wears glasses). I told him about this incident and he said sorry to me.While I was explaining to him about the danger,he tried to ignore me and keep on saying OK!OK!OK! and did the same thing(put the chair on the bars).
I was so furious but nevermind,I tolerated and I advised him to put a sign or a note there to deter people from seating on it for the time being until it is repaired,you know what he did?
DO YOU KNOW WHAT HE DID?!

DO YOU KNOW WHAT HE DID?!

DO YOU KNOW WHAT HE DID?!
He said OK!OK!OK! again and went back to the counters and laughed with his colleagues!
I couldn't stand it and I wanted to borrow a camera from Yin Tung since his house is nearer but unfortunately it wasn't available that day, his dad took it to his office and
my camera
my dad's camera was in Guilin,China as my Dad and Bro was enjoying their tour over there. I thought of
Lawlen
and I drove to his house to borrow his cam and drove back to McD to take pictures of it!
I couldn't stand it anymore...its time for some complains!
The message was like this:
"
I HAD A TERRIBLE EXPERIENCE IN THE GREEN LANE MCDONALDS ON THE 4TH OF OCTOBER.THERE WAS A CHAIR THAT WAS SPOILED AND IT HURT MY LEG AND I COMPLAINED TO THE MALE MANAGER ON DUTY THAT DAY AND I TOLD HIM THAT LEAVING THE CHAIR THERE WOULD BE VERY DANGEROUS AND HE IGNORED ME IN AN UNFRIENDLY MANNER AND DID THE SAME THING TO LEAVE THE HAZARDOUS CHAIR THERE.I'M VERY UNHAPPY ABOUT THIS MATTER AND THE DAMAGED CHAIR MADE A CUT ON MY RIGHT CALF MUSCLE.PLEASE EMAIL ME IF THIS FEEDBACK IS SEEN SO THAT I CAN NOTIFY YOU WITH FURTHER DETAILS AND ALSO PICTURES OF THE HAZARDOUS CHAIR.I THINK THAT THIS DOESN'T MATCH THE VALUES MCDONALD'S WANTS TO PORTRAY,I THOUGHT MCDONALD'S SUPPOSE TO HAVE THE BEST SERVICE AROUND BUT SADLY THIS MADE A BAD IMPRESSION.I HOPE YOU CAN REPLY MY FEEDBACK AS SOON AS POSSIBLE OR ELSE I'LL POST THE PICTURES TO THE MEDIA SO THAT MY VOICE IS HEARD(I DON'T WISH THIS TO HAPPEN BUT IF MY FEEDBACK IS NOT REPLIED THEN YOU LEAVE ME NO CHOICE).
"
(This is what ppl will do when they're angry)
Few days after I sent the mail,an operation consultant of several outlets in Penang called me and asked me about the details and I explained it to him and also requested for an apology mail with information about the actions taken regarding this incident FOR YOU! YEAH YOU! THE ONE READING! IF NOT HOW YOU KNOW WHETHER ITS REAL?
He followed up and told me the e-mail will be sent on Monday which is today and I sucessfully received it.This afternoon,an employee from McDonald's Greenlane called me and told me that they're sorry about the incident and asked me when I'm free to get a complimentary gift certificate from McD and I told her that I don't have transport so she said she will bring it to me tomorrow at my doorstep! THIS IS WHAT I CALL SERVICE!
The e-mail for your reference:
Dear Ji Yuan,
Thank you for letting us know about the incident that you have encountered
at the above McDonald's restaurant.
We are very concerned when a customer informs us of an experience such as
yours. Please be assured the circumstances, which you encountered, are not
typical of the high standards that we strive to achieve at McDonald's.
Please note that we have immediately taken actions based on the feedback
that you have high-lighted to us. Below are the actions that we have taken:
Repaired the defected chair to prevent the incident from recurring in
the future
A verbal warning was given to the manager on duty for not taking
immediate action to rectify the matter as high-lighted by you on the
said day
Thank you for taking the time to bring this matter to our attention and we
apologize for the inconvenience caused due to this. We value such feedback
because the best way we can improve is if people who are not satisfied with
us tells us so and tells us why. We hope the experience will not deter you
from visiting McDonald's and please be our guest with the Gift Certificates
that we will deliver to you via post within these few days.
Thanks and warm regards,
Fartini Zaharuddin
Corporate Communications Department
Tel No: 7843-3388 ext. 3236
Fax No.: 7843-3389