Here comes the 2nd half of my merdeka day... sorry for the late update due to my busy schedule and the busy server of blogger.com that made it so hard to login my account and upload the pics,so in the end I used
photobucket
to host the pics instead.
After having my lunch at Subway and bathing Dino, we planned a game of golf in the evening. My family is exactly a foursome and *poof* we head to Bukit Jambul Country Club. Its really rare to have a chance for me to do something meaningful together with my family as a whole other than eating and chatting...
I'm certainly not a seasoned golfer but I did learn how to play and I'm so far a decent player but the main purpose I was there was to live up the family spirit and of course gather materials to BLOG for you!(yeah! you! the one reading!)
We rent the buggies this time to pamper my parents from walking.Hey,they deserve it!Give credit to their love and hardship to bring me up!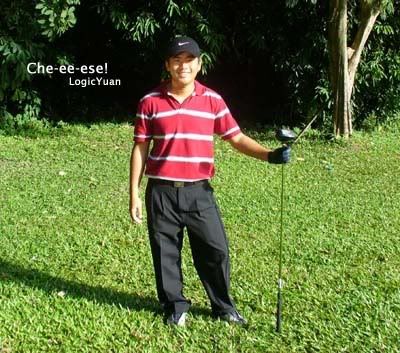 My dad went to grab a snack as he didn't join us during lunch,so its photo snapping time!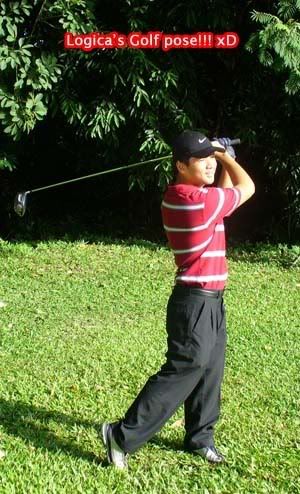 My bro a.k.a. LogicXiang was the photographer for these...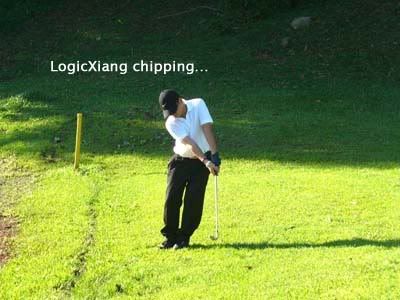 My bro making a approach shot towards the green...He's a Tiger Woods fan!
I didn't want to play too much on the course because of my long absence from golf,so I chose to play whenever my mood tells me to do so... I was just having a pleasant time driving the buggy around and taking photos...
See LogicDad in action...
OK...I played some shots and decided to try my luck at the 13th hole(played the back 9) because its a PAR 3 hole which means the required score is only 3 shots...the distance between the tee box and the hole is around 110m. If I hit a hole-in-one then I'll get paid some bucks by my golf insurance and have my named listed at club.(Fact:Tiger Woods has 3 hole-in-one's in his life,but some noobs got more than him.One word - LUCK)
I used a lady 5 wood(my mom's) to tee off and it landed a bit over the green. I chipped it onto the green accurately as the above...
I was excited to PAR this hole because I seldom play and I rarely go one course...Its gonna be my first PAR in my life(PAR is actually normal for a serious golfer..LOL) I asked my brother to stand-by with the cam .
Ahuh! Caught'ya! not *that* BALL in *that* HOLE ok!!!
COME ON! YEAH!
THE JOY WAS LIKE AN ORGASM!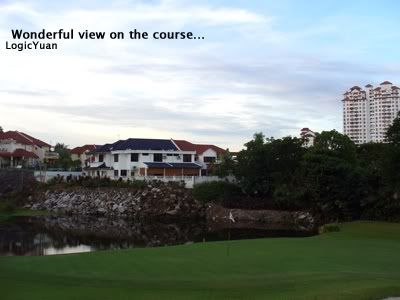 Managed to get a shot of this magnificent view...
After golfing, we went to the changing room to shower.As I didn't bring change of clothing, I was bored in there so I decided to use the hair cream provided and combed some *ghey* retro hairstyle to add some spice to my day!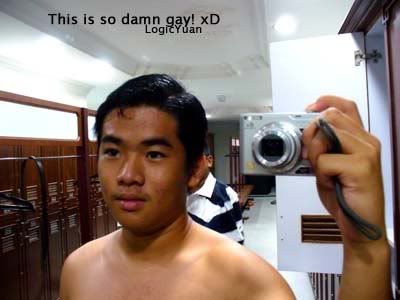 Hard to believe I actually did this pic...
Haha... his signature emo with his sun specs...
Changed to Chow Yun Fatt's God of Gamblers hairstyle and wore my bro's sun glasses...

Went home and brought my doggie for a walk to settle his business... OMG I photographed him making *IT*...
Went to Kassim Mustafa at Chulia Street because my neighbour Uncle Subra told my dad that they sell goose curry after 10pm, LogicDad thought of giving it a try so off we go!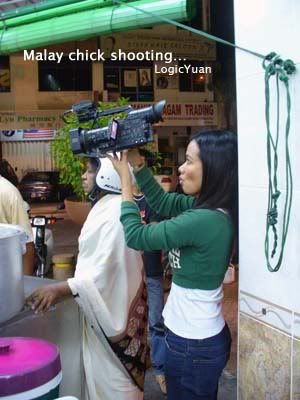 When I walked into the shop,I saw this Malay chick shooting the workers working...wait!!! no no no! not that shoot k!you dirty little mind! She's from TV3...The business here is so good that even TV3 wants a piece of it...
We asked about the goose and found out they only sell goose curry on Saturday nights...we ordered other stuffs but because of the roaring business we had to wait for quite a while...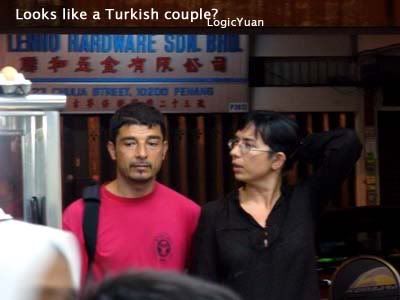 Time to take some pics while waiting for the food...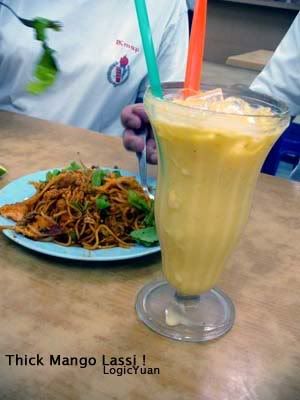 The mango lassi here is really original! I mean ORIGINAL k! Fresh Mangoes and Fresh Lassi... but its a bit thick... add a little water then it will be SLURPILICOUS!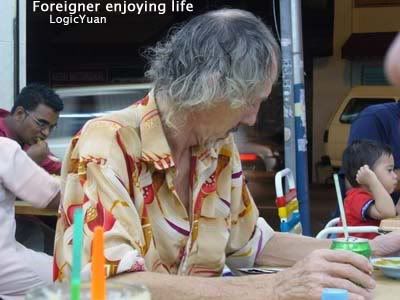 After I finished my tandoori chicken,I took a shot of this caucasian... see how he's enjoying his life by just eating and doing a crossword puzzle from the Star without spending a fortune...
I think that's all for now... see ya soon!