I went to Sushi King with my mom and her friend,Fei on Saturday night at e-gate and WTF! the water dispensar used to make the green tea couldn't work due the the weak water pressure that night.We were unhappy and the waitress told us that they told the management about this problem but still no sign of action.It always occur at night,usually 9-10pm but that day 8 sth already low water pressure,WTF!how to enjoy sushi without green tea..damn!
I lodged a complain at
www.sushi-king.com
: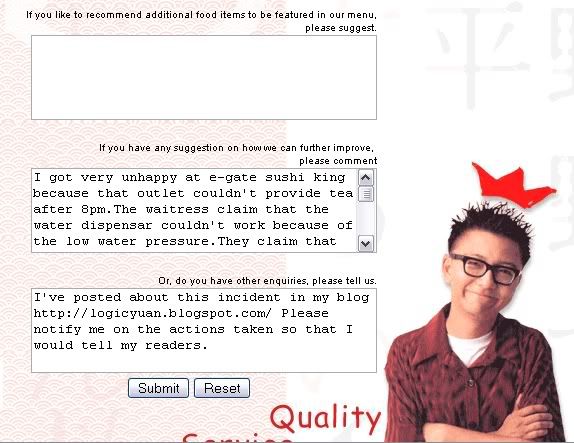 "I got very unhappy at e-gate sushi king because that outlet couldn't provide tea after 8pm.The waitress claim that the water dispensar couldn't work because of the low water pressure.They claim that they complained this to the higher authorities but till now no action was shown.I believe you could send people to investigate this issue because its very hard to enjoy sushi without green tea!Other than that,more workers is needed in that outlet during peak hours to satisfy the customers need as the service promptness greatly drops during lunch and dinner time."
One thing I enjoyed this weekend is that I felt satisfied during my friday night tennis session...
But... I skipped tennis on sunday morning because....too tired la....
Went for BM tuition just now and the baby girl of the teacher cried sounding very similar to a cat and I just said that sounded like a cat,my friend(teacher's son) got unhappy and told me not to say that in front of his mom(as if I'm making a bad remark-maybe it is to him or some other ppl).The tuition teacher said nevermind but I didn't what she was thinking at that moment.If its really offensive then I'm sorry.I just said what came out straight in my mind,and to me that was a neutral remark.After that I asked myself what's so bad about a cat?Isn't it adorable? Hello?there's a reason why people call their daughters Felicia(it means happy in Latin and a cats scientific name is Felis catus). Moreover I searched
wikipedia
about cats to see texts about how sacred a cat is. I found this line "cats were sacred"!!!ok!
One interesting thing I didn't know before :
"A group of cats is referred to as a clowder, a male cat is called a tom, and a female is called a queen"
thats how TOM and Jerry came from..(i also searched the
mouse
page-result:no Jerry found..hehe)