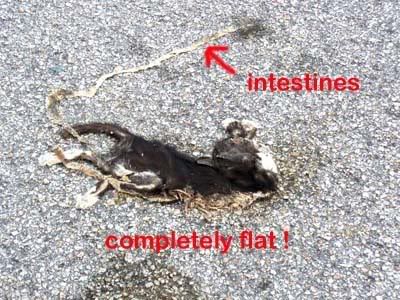 A few days ago, I saw this cat's dead body when I went to walk my dog as usual every evening. It was completely flat when I saw it, I suspect that it was ran over by a vehicle and after its intestines came out he suffered to death plus he was ran over more than a few times before it could get that flat as the incident happened in a busy junction.
In the same hour, my dog killed a kitten(not the one above) !
Argh ! He was a hero when he tried to defend my home from the monitor lizard for the first and second time it invaded my house.
But now... Dino is a murderer....
My dog bit the kitten and I couldn't do anything about it... I heard the kitten screaming in pain and its bones' 'cracking' sound... my dog left no chance of survival for its natural enemy...

the kitten's blood even found its place on my t-shirt....
well.....nature took its course...there wasn't anything I could do to save the kitten....