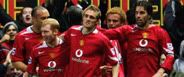 Darren Fletcher (centre) is congratulated after puttting United ahead
Darren Fletcher ensured Manchester United inflicted Barclays Premiership leaders Chelsea's first defeat of the season at Old Trafford.
After spending almost the entire second half back-pedalling furiously, United emerged victorious with Fletcher's first-half header proving enough to end Chelsea's 40-match unbeaten record.
Unlike Arsenal, whose 49-game run bit the dust on the same ground last year, Chelsea accepted their defeat with grace. Beaten not by a team of greater quality, but by one who would not lose.
They may have suffered a rare reverse in midweek and won only once in their last four games but Chelsea had every right to swagger into Old Trafford.
By contrast, United had seriously under-performed in defeats to Middlesbrough and Lille in the past week
Yet, as Jose Mourinho is acutely aware, in football, triumph and disaster are only ever 90 minutes away and as the Chelsea coach headed down the tunnel to deliver his half-time team talk, he was suddenly facing opposition far removed from the one which lined up before the game.
It would be a harsh judge of Chelsea's performance to say the hosts deserved their interval lead but equally, United were a match for Mourinho's men.
What they could not match in style, the Red Devils made up for in effort and direct running. In delivering long balls over the top, they also appeared to hit on an area of Chelsea weakness and Paul Scholes sent a shot whistling just wide after Wayne Rooney had chased down one long punt forward before cutting a fine pass back to his former England team-mate.
The direct route to goal also brought Chelsea their best chance of the opening period, which came about courtesy of a sublime piece of skill from Didier Drogba.
Having got behind Rio Ferdinand, the Ivory Coast striker brought Frank Lampard's 50-yard ball down with a one magnificent touch before just failing to beat Edwin van der Sar with his first-time lob.
A thrilling encounter, living up to the match of the season billing, was only lacking a goal and Fletcher duly provided it.
The Scot does not score often – and his first of this season took plenty of time to enter the net after he had arrived at the far post to meet a Cristiano Ronaldo cross with an effort which had Petr Cech in trouble as soon as it left his head.
As he emerged for the second half, Ferguson knew enough about the attitude of champions to be acutely aware of what Chelsea were about to throw at his team.
Yet the barrage of attacks might have been avoided if Ruud van Nistelrooy had been able to lash home the 10-yard volley Fletcher set up with his neat knock-back.
Instead, the Dutchman blazed over, leaving Chelsea free to attack from every angle.
Drogba again proved the man to fear. The Blues striker saw his stabbed effort roll agonisingly wide after taking a deflection off Mikael Silvestre and it was Drogba's initial shot Lampard was trying to force home when Edwin van der Sar made an excellent close-range save.
At times United were pinned in their own half for minutes on end but when Asier del Horno blasted an eight-yard volley over midway through the half, the realisation dawned this was not to be Chelsea's day.
An audible gasp went round the ground when the fourth official raised a number four to indicate the minutes to be added on.
But try as they might, Chelsea could not break United's stubborn resistance.
After having a bad Sejarah(history) test,this result made me smile and I'm glad to be a ManU fan!