After using Friendster which is a friends making network,I've received some testimonials from my nice friends that are willing to sacrifice their precious time to testify my personality.
Let me say THANK YOU here! I write this to acknowledge their effort and also to pour out my views about the testimonials.
1st Analysis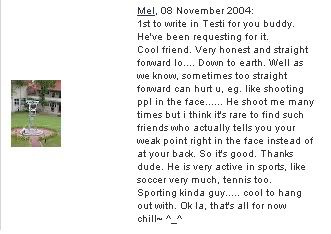 Melvin Goh, he is indeed the first person to write me a Friendster testimonial. I also requested for it because I was new to Friendster back then and curious about testimonials.I'm not trying to bloat but I think I'm quite a cool friend as I try to joke at times and make fun. I am indeed honest(I don't lie unless its for others good),straight forward(very,to ones who i care),down to earth(most of the time).
" SOMETIMES TOO STRAIGHT FORWARD CAN HURT U,EG. SHOOTING PPL IN THE FACE ", I do this for their own good and thank god for a friend like Mel that understands...
I am active in sports,in fact sports means A WHOLE LOT to me. Cool to hang out with? Not too sure about this because my taste is kind of different sometimes.
----End of first analysis----