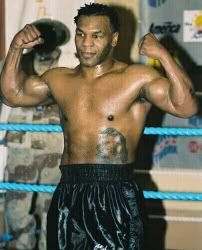 Mike Tyson is reportedly set to star in a porn film - with Jenna Jameson.
The former boxing World Heavyweight Champion claims he is desperate for cash, after being hit with a tax bill for several million dollars, and a porn career is a tempting offer.
The disgraced pugilist, who retired from boxing last month, was approached by Jenna's representatives to star as her partner in the X-rated movie.
He is quoted by Britain's Zoo magazine as saying: "I just talked to a gentleman called Jimmy who's involved with Jenna Jameson. They said they were interested in getting me involved in the adult film industry.
"I need the money up front."
Meanwhile, American boxing journalist Pedro Fernandez believes Tyson, who was jailed for six years in 1992 on rape charges, would triumph in the sex industry - with his alleged 14inch manhood.
He explained: "According to court documentation from Tyson's rape trial, his member is at least 14in long.
"If Tyson brings out some of the ferocity that made him a champion, he could definitely become a successful porn star."