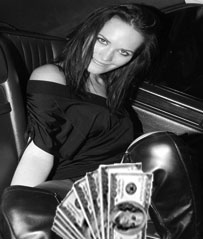 WORLD'S PRICIEST HOOKER CHARGES $1 MILLION A NIGHT
And she's worth every penny, swear satisfied johns
Buxom blonde beauty Krista Endelwood is the world's most expensive hooker. A single night of passion with the curvaceous call girl will set you back a staggering $1 million!

Incredibly, the stinking-rich Arab playboys, movie moguls, and other fat cats who've engaged Krista's services insist that the super-sexy strumpet is worth every penny.

"In fact, after every session with Krista, I tip her $150,000 or so," raves the owner of a giant software firm who requested anonymity. "Krista is unbelievable. She can do things with her body you'd swear are physically impossible. Not only can she crack apart a walnut with her butt cheeks, she can squeeze it back together into one piece."

Beautiful Krista, 23, who works for an exclusive escort service based in Winnemucca, Nev., sports a dazzling 38D-22-36 figure and the face of an angel -- but there's nothing angelic about her bedspring-busting behavior on the job.

"I really try to give my clients their money's worth," she giggles.

The luscious lady of the evening works just one night a week. She has been in the business for two years and expects to retire by age 25 with a fortune exceeding $200 million.

"I've been saving and investing my money," she says. Remarkably, despite Krista's astronomical rates, there are some services she refuses to provide.

"I don't do that Monica Lewinsky stuff -- to me that's always just seemed too gross," the blonde bad girl reveals.

Not surprisingly, Krista's rivals are jealous of her success -- and accuse her of price gouging.

"It's ridiculous what that little bimbo charges," says a leggy brunette colleague who asked that her name be withheld. "I don't even think she's all that pretty.

"No roll in the hay is worth $1 million." Researcher Tim Biddlebaum, author of a best-selling, 500-page guide to legal brothels and escort services in Nevada, agrees that there is nothing unique about the high-priced harlot's technique -- in fact, Krista only receives four out of five stars in the book.

"When I asked for a free hands-on demonstration for my rankings, I found that Krista's reverse-cowgirl needed fine tuning," he notes. "She does have a great personality, though, and a wonderful smile."

In fact, Biddlebaum theorizes, it's Krista's winning personality, not her looks or bedroom acrobatics, that allows her to command such a sky-high fee.

"These big shots don't like to admit it, but they actually fall in love with Krista," the expert says. "She makes them feel really special."

p/s HAHA Cool huh??? Are you sick of your parents wanting you to be doctors or engineers?

You may suceed in any industry you like !!!